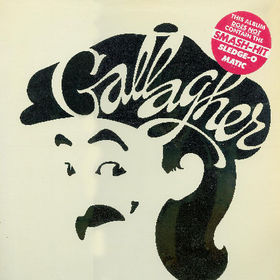 Gallagher, the Sledge-O-Matic, watermelon-smashing comedian, has announced that he's not going to perform anymore after suffering two heart attacks in the last two weeks. A lot of people in the comedy community sneer when they hear Gallagher's name, writing him off as a hack prop comic with a loud mouth, but I knew him when he first burst onto the national stage as something fresh and clever.
In the fall of 1980, I was music director at WRCN/Riverhead. Among my duties, I'd listen to most of the new material that came in from the record companies and help choose what we played on the air. I would also comment on what I liked for Friday Morning Quarterback, a weekly trade publication that often printed my remarks.
Along with all the music, I occasionally received comedy albums, and when Gallagher's debut album came in, I put it on. I had seen his debut Showtime special earlier that year and liked it, but what I heard on the album really impressed me. Many of his contemporaries, including the mega-successful Robin Williams and Steve Martin, were releasing albums that included visual jokes that didn't translate to vinyl, but Gallagher's album had none of that. Clever wordplay, silly jokes, and funny stories, yes, but no Sledge-O-Matic. It wasn't that the props weren't part of his act, but he was smart enough to realize what would work in the audio-only format of a vinyl album.
In my weekly call with FMQB, I mentioned all of that in explaining why I liked Gallagher's album so much. On the day of publication, I got a call from the rep at United Artists Records who had sent me the album. He said he was in his office looking at the trades and appreciated what I'd said about Gallagher — who happened to be sitting next to him. He handed over the phone, and there was Gallagher, thanking me for the kind words. We talked for about five minutes and, as we wrapped up, I mentioned that I'd like to see his act sometime. He said he wasn't performing anywhere in the New York area soon, but why didn't I come into Manhattan and have dinner with him while he was there doing publicity for the album? I accepted, and two nights later we met at Gallagher's Steak House (no relation, but a nice touch by the UA rep!).
During the meal, which lasted a couple of hours, he was outgoing, funny, and a pleasure to talk with. The topic of vacations came up, and I mentioned that I was going to take my first trip to Los Angeles in a couple of months. Gallagher said that he lived in North Hollywood and I should let him know when I got to town so we could get together. I figured he was kidding until he took out a pen and gave me his home phone number.
I'll tell you the west coast part of the story tomorrow.