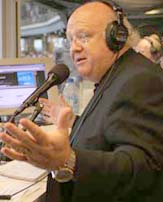 When I heard that ESPN has dumped Jon Miller as the play-by-play man for Sunday Night Baseball, I thought back to a day in the late 1980s.
At the time, I was the morning man on WCXR in Washington, DC, and Jon was the voice of the Baltimore Orioles. Since DC didn't have a major league team (they barely have one now!) and Baltimore was only a 45 minute drive away, lots of Washingtonians considered the O's their team. In March, 1988, I convinced station management to let me go to Florida to broadcast from Orioles spring training. To my utter surprise, they said yes and made the technical arrangements.
After we finished our Thursday show in the WCXR studios, I flew down with newsman John Ogle and we checked into the team's hotel. The Orioles' PR guy met us and said he wasn't sure if any of the players would be up that early (we were on 5:30-10:00am), but manager Cal Ripken Sr. had agreed to stop by the show and he'd see who else he could line up. That's when a guy in a ridiculous floral print shirt, dark sunglasses, and an O's hat walked over and said, "I'm always up early on game day, so I can come down and spend an hour with you."
I knew that voice immediately. It was Miller. I was so happy I almost told the PR guy not to book anyone else, because I wanted to spend as much time as I could with Jon. Sure enough, on Friday morning, he came down to our broadcast setup in the lobby around 7am — and didn't leave until 9am. He talked about baseball in general and the Orioles in particular. He talked about the process he went through every day to prepare to do play-by-play (it was clear he put in 100% for every game, even in spring training). He did impressions. He introduced songs. He took phone calls.
I looked through my audio archives but, unfortunately, can't find that show. If I do dig it up, I'll post it here as a podcast. But take it from me, Miller was, in short, one of the best guests I've ever had and one of the most naturally gifted broadcasters I've ever heard.
Later that day, he allowed us to come up to his broadcast booth at the ballpark to watch him work. I thanked him again for generously spending so much time with us and told him he was welcome back on the show anytime. To my delight, he honored us with several visits over the next few years, all by phone.
I know this sounds like an obituary, which it isn't. Miller is still well-employed as the radio voice of the world champion San Francisco Giants, so we won't have to host a fundraiser to help him pay the mortgage anytime soon, but I can't fathom why ESPN decided to let him go.
They won't find anyone better.
Ken Levine, who took time off from his career as a sitcom writer/producer ("Cheers" and "M*A*S*H" are just two of his credits) to become a baseball announcer, worked with Miller in the O's booth. To see what he has to say about ESPN's boneheaded move, click here.