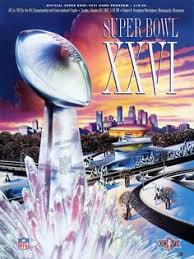 The scenes of the Patriots and Eagles preparing for Sunday's big game in Minneapolis remind me of being in that town for a Super Bowl 25 years ago.
At the time, I was doing mornings on WCXR in Washington, DC, a town that was enveloped in Redskins fever from August to January every year. Under head coach Joe Gibbs, the team was pretty great in those days, what with The Hogs on the offensive line protecting quarterback Mark Rypien and running back Ernest Byner, Dexter Manley and Charles Mann as defensive ends, and the speedy trio of Art Monk, Gary Clark, and Ricky Sanders at receiver.
I'd been lucky enough to cover the Skins' victory over the Denver Broncos in Super Bowl XXII — which culminated in The Day I Almost Died For Cereal. Now, four years later, they were going for the Vince Lombardi Trophy again, so I took my show back on the road for special Saturday and Sunday shows with my sports guy, Dave "The Predictor" Murray.
The biggest difference between those two trips was the weather. Super Bowl XXII took place at Jack Murphy Stadium in San Diego, an outdoor facility with lots of sunshine and warm temperatures — it was t-shirt and shorts weather. In fact, it was a full seventy degrees warmer there than what we encountered in 1988 in the Twin Cities for Super Bowl XXVI. We walked out of their airport to find a big fat zero on the thermometer.
On the way to our hotel, we had the cabbie drive us to the Hubert H. Humphrey Metrodome so we could grab a few quick interviews with fans milling around outside. Big mistake. As soon as we stepped out onto the sidewalk, we felt the brunt of the minus forty degree wind chill. It was so cold that there was no one outside the dome, so Dave and I tried to do a quick scene-setter on my portable cassette recorder before jumping back in the cab. The sound of the wind nearly drowned us out, but it made for a good bit the next day on the show.
Because we hadn't booked the hotel until the Skins had won the NFC Championship, we couldn't get a room downtown. Instead, we ended up at some motel several miles up the interstate. It didn't matter, because we weren't going to spend much time there. We got a few hours sleep that Friday night, then took another cab back into town the next day to set up at the designated media hotel. As I plugged in the equipment and talked to our engineer back in DC, Dave went off to find us a few guests.
He came back with Hall of Fame placekicker Morten Anderson, who had spent more than two decades in the NFL and was now covering the Super Bowl for a radio network in Denmark, his home country. Morten was a ton of fun to talk to on the air, and hung out with us for an hour. Then we were joined by Joe Theismann and a string of other former players and current sportswriters who helped us easily fill up a four-hour show. One of the major topics of discussion was the sky-tunnels that connect most of the buildings in downtown Minneapolis, so you can walk almost the entire length of the city without ever going outside. You feel a bit like a hamster in a habit trail, but that's how Minnesotans deal with the cold — by building more ways to stay inside! Smart people.
When it was over, we packed everything up and headed back to the motel. With nothing better to do, we walked through the snow to a nearby Joe Senser's sports bar, where we spent several hours having dinner, getting drunk, and putting way too many quarters into some football-throwing arcade game. Then we stumbled back to the motel, slept a few more hours, and repeated the process for our Sunday show.
By now, it was finally time to go to the dome for the game. We had procured two pretty good seats about a dozen rows up in one end zone (which would eventually give us a perfect view of the gorgeous Gloria Estefan during the halftime show). Before settling in, though, we had to peel off the four layers of outerwear we had on because it was so damned cold outside. Inside, of course, the dome was heated to a very comfortable 72 degrees, so we ended up sitting on three feet of clothing piled on our seats, just like everyone else.
We knew this would not be a good day for the Bills when their star running back, Thurman Thomas, couldn't find his helmet as the team took the field for its first possession. Plus, their quarterback, Jim Kelly, spent most of the day on his back as the Skins sacked him four times and added four interceptions. Meanwhile, Washington kept rolling along, with Rypien having a career-best day, and the team's marching band playing "Hail To The Redskins" lots of times on the way to a final score of 37-24.
Elated, we hung around for some post-game audio to use the next day, then somehow found our way back to the motel, where we packed up our stuff and headed for a late flight back to DC, where we had to be on the air again Monday morning. We were exhausted, but looking forward to getting back to a city where below-zero temperatures were the exception, not the norm.
I never got to another Super Bowl game, but I've been happy to watch them in the warm, uncrowded comfort of my own home over the last quarter century. And I'm damned glad I don't have to go back to Minneapolis in the winter.
I just checked the forecast for this Sunday — yep, it'll be zero degrees at game time.