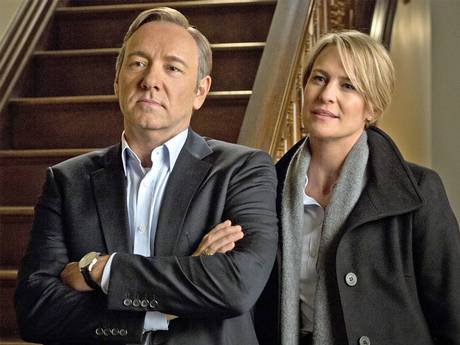 I have watched the first four episodes of the Netflix original series "House Of Cards," which began streaming yesterday. Like other series I've binge-watched on DVD (e.g. "The Sopranos" and "Breaking Bad"), I like being able to watch as much or as little of the show as I want, on my own schedule.
Is it a great, must-see show? The plots are resolved a little too simply in each episode, rather than over longer arcs, but Kevin Spacey and Robin Wright are always solid, and Anna Kendrick lookalike Kate Mara does a fine job. The show is also a little too close in tone to "Boss," the Kelsey Grammer drama series that Starz tried for a couple of seasons (a powerful but devious politician, a driven but icy wife, a young reporter willing to trade integrity for access, etc.). Still, I watched every episode of that series, and probably will do the same with "House Of Cards."
It will be interesting to see if Netflix's foray into original programming translates into enough new subscribers for the company to then develop other new series. It will take several months for the numbers to become apparent, and to see what kind of viewing patterns emerge from the release of all 13 episodes of the show simultaneously, but at the very least it's a win for consumers, who end up with another source of fresh content.
I've been a Netflix subscriber for a long time. It was over a decade ago that the company's in-house movie reviewer, James Rocchi, started doing movie reviews on my radio show to help promote Netflix, and I even conducted one of the early interviews with Netflix CEO Reed Hastings. Along the way, my family has consumed hundreds of hours of its DVDs and streamed video (the reason we bought an internet-ready TV several years ago), and while we haven't loved all of the content it has provided, we've rarely been disappointed by the company's service.
One of those exceptions is that Netflix still doesn't have a smartphone app that allows members to manage both their DVD and streaming queues. Those functions are easily handled via the company's website, but we're forced to use a third-party app like Flikster or iQueue (to add DVDs, edit the list, etc.) when we're on the go. In an increasingly mobile world, where the key is giving consumers what they want, when they want it, there's no excuse for a tech company like Netflix to not have developed its own user-friendly smartphone application.