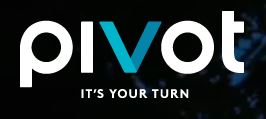 Another TV channel you never watched is going away. It's called Pivot, launched 3 years ago with a target audience of millennials. Unfortunately, that's exactly the demographic that isn't watching TV anymore. My 22-year-old daughter doesn't even have a television — if she's consuming video, it's all online — and I don't think her friends do, either.
Even if the network aired nothing but the "Friends" scene where Ross yells pivot!! at Rachel and Chandler as they try to get a couch up the stairs to his apartment, they weren't going to get that demo. Talk about a bad business plan.
The owners of Pivot can't even find a buyer for the network, so they're just going to shut it down later this year. The same thing happened to Al Jazeera America, a channel that similarly disappeared.
That makes me wonder what's keeping some of these other networks going? Can there possibly be enough viewers and advertisers for what I call the "click-by channels"? Have you even heard of these?
AWE, which stands for A Wealth of Entertainment (casting doubts on how its owners' define "wealth");
Aspire, owned by Magic Johnson;
Idea, which doesn't seem to even have a website;
Pop, formerly the TV Guide Channel;
Pets TV;
Cars TV;
Justice Central;
American Heroes;
DIY Network;
Z Living.
There are several networks whose names seem to have come out of a random word generator: Havoc, Ovation, Up, Velocity. I have never had anyone mention any show they've watched on any of those networks, probably because their programming is made up of reruns that other channels don't want. If they're producing original shows, they've gained zero traction and must be hemorrhaging cash.
I'm not even mentioning the myriad shopping channels nor the ones that seems to be nothing but a constant stream of infomercials (Value, Wow, GetIt, the Time-Life Channel). Does anyone ever spend more than 3 seconds watching them? Their entire viewership has to come from people flicking through every channel on their cable/satellite system and asking, "What is this?"
Then, of course, you pivot to a channel you actually want to watch.