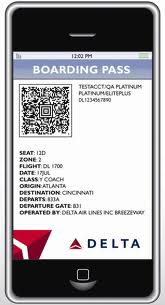 It's nice to see the airline industry embracing some changes that make travel a little less burdensome.
First are the the new smartphone apps that allow you to check in without printing out a boarding pass. Instead, the app produces a digital boarding pass on its screen, which you show to the TSA checkpoint personnel and gate agent, who scan it and let you right through. At the moment, there are seven airlines that permit them (Alaska, American, Continental, Delta, United, US Airways, and Virgin America) at 79 airports (full list here). Unfortunately, at Lambert Airport in St. Louis, you can only use them for Delta flights, because the scanners haven't been installed in the American concourse yet. And I'm surprised that Southwest hasn't jumped on this bandwagon, considering how good they are at making the air travel experience as hassle-free as possible.
Second is that airports are now making more electrical outlets available, and putting up signs to tell you where they are. That helps when you're stuck at a gate for an hour or two and want to use your laptop or iPhone without draining the battery. The outlets were so scarce and so in demand that last year, while waiting for a flight at McCarran Airport in Las Vegas, doing some writing on my laptop, I was approached by a guy who asked if I would share the outlet I was using. He had an extension cord that could accommodate three plugs, so I said yes, and within seconds we were both powered up. As more airports add more outlets, that scramble for current will become a bit easier. Some airlines have even added USB ports that you can plug into to power up your mobile device. Good move.
Third is the growing number of airports that offer free wi-fi in the terminal. Sadly, Lambert lags the industry by charging for its Boingo Hotspot service, which is not worth the expense if you're only going to use it for a little while. When airports as busy at Atlanta Hartsfield and Chicago O'Hare provide wi-fi for free for tens of thousands of fliers every day, there's no excuse for Lambert to be so stingy. Even the tiny airport in Gulfport, Mississippi (total # of gates = seven), provides free wi-fi terminal-wide, as well as a room with desktops and plenty of AC outlets.
The hotel industry needs to embrace free wi-fi, as well. In my travels over the last year, I've found that the bigger the hotel, the less likely it is to offer free wi-fi in the rooms. While smaller chains like LaQuinta, Red Roof, and even Super 8 provide the service on a complimentary basis, the only internet access you can get in many larger venues is via an ethernet connection. While that's a step up from the days when we plugged into the data port on the side of the hotel room telephone, they'll have to abandon plugs altogether in this age of the iPad. Some of these mega-hotels still charge for internet access on a daily basis, while others tell you it's free when they're really burying it in the "resort fee" they charge every customer (which also covers other things they didn't charge you for before, including the gym, the pool, and the coffee maker!).
While there is a cost to the hotel or airport to install and maintain wi-fi throughout the property, it's good to see some of them treating it as a utility for all — just like those electrical outlets they let us plug into.