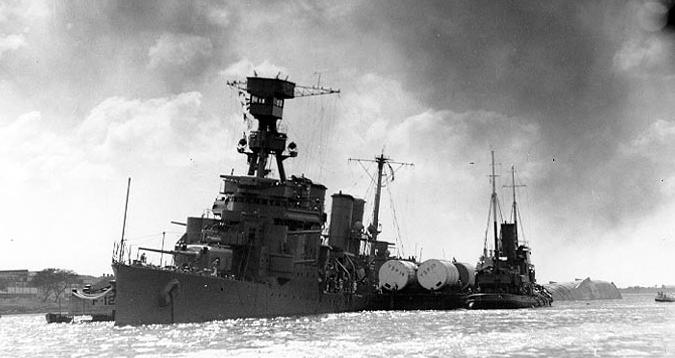 A few years ago, we went on vacation to Hawaii, and made the obligatory visit to Pearl Harbor. I wasn't sure what we'd see or how I'd react, but I got more than I bargained for.
As part of the tour of the USS Arizona Memorial, we joined a hundred other tourists in the park's movie theater to see a short documentary which gave an overview of the naval base's history and details about the attack of December 7, 1941. When it was over, a US Park Ranger asked us all to remain seated. He said that, from time to time, they get a visit from a survivor of the attack, and we had one in the theater that day.
He introduced a man who'd served aboard the USS Raleigh, a cruiser that was hit by a torpedo while moored at Pearl Harbor. While listing and nearly capsizing (pictured above), gunmen on the Raleigh still managed to shoot down five Japanese planes, including the one that dropped a bomb through the aft section of the ship. None of the crew died, though a few were wounded, as they saved the ship from sinking (here's a full report on what happened to the Raleigh that day). The Raleigh was repaired and back in action less than a year later, while most of the crew were transferred to other vessels, where they joined the fight in the Pacific when the US entered World War II.
The Ranger asked the Navy veteran to stand up, which he did, to a rousing ovation from the crowd. We all then left the theater and got aboard the launch which took us to the USS Arizona. When we docked, two Navy personnel escorted the Raleigh veteran off first, while we waited patiently.
As we took our time to observe all there was to see at the Memorial, I noticed that no one was approaching the vet, so I went over to him. I told him I didn't want to bother him, just wanted to thank him for his service. He looked up at me and nodded as he said, "I lost too many friends in this war." I told him I could only imagine the horror he'd witnessed that day. We stood there silently for a few more seconds before I thanked him again, we shook hands, and said goodbye.
When it was time to return to the launch, everyone was on board except the Raleigh veteran. He was talking quietly to two young sailors who were accompanying him outside in their starched-white uniforms. Just as they were about to help him onto the boat, he turned, brought his octogenarian body to full attention, and offered a crisp salute in the direction of the Memorial.
I teared up. My daughter grabbed my hand. No one said a word. We all understood.
One final show of respect for the long-gone but not forgotten.