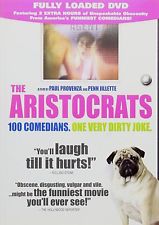 Here's my conversation with Penn Jillette about "The Aristocrats," which was released on DVD today. He explained why he hates the DVD cover, why the movie is dedicated to Johnny Carson, how he and Paul Provenza got all those comedians to appear in the movie, why Buddy Hackett and Rodney Dangerfield didn't, which extras are included on the DVD, and why he doesn't want anyone who's offended by dirty jokes to see the movie.
We also discussed a trick that Penn and Teller do in their show at The Rio in Las Vegas involving joke books and the audience, which leads to a nice shot at Sylvia Browne and a nice plug for James Randi.
Listen, then click here to subscribe to these podcasts via iTunes!