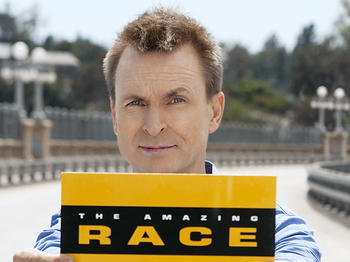 Phil Keoghan returned to my radio show to talk about the 29th season of "The Amazing Race," which debuts in a new time slot, Thursdays at 9pm CT, on March 30th on CBS. The show (which has won 13 Emmy Awards, including 7-in-a-row for Outstanding Reality/Competition Program) is trying something new this time — the two-person teams won't have a pre-existing relationship as they have in previous seasons. I asked Phil about that, as well as:
Whether the new season has any new obstacles in addition to U-Turn and Yield;
Whether CBS has renewed the show for its 30th season;
Whether global politics impacted where the show can go;
Whether the same audio/video people travel with teams the whole way or switch;
How hard it is to keep things secret at the final stop in the US;
Listen, then click here to subscribe to these podcasts via iTunes!