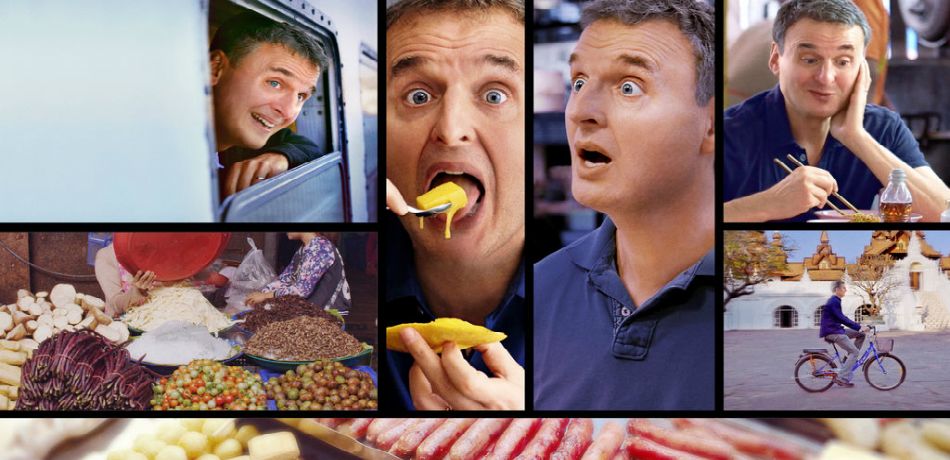 Phil Rosenthal — who created "Everybody Loves Raymond" and starred in the documentary "Exporting Raymond" (read my review here) — did a PBS series a couple of years ago called "I'll Have What Phil's Having," in which he traveled the world meeting people and eating great food. My wife and I were quite disappointed when PBS didn't pick up the show for a second season, but we're happy now because he sold it to Netflix, where it will debut under a new name, "Somebody Feed Phil," this Friday (1/18). I was happy to welcome Phil back to my radio show to discuss it.
Having seen three episodes — in which he visits New Orleans, Saigon, and Tel Aviv — I can report that the show still works because of Phil's likability and his very expressive face. When he bites into something delicious, it shows, and there's plenty of that in each episode. He also meets lots of locals in his travels (his classroom visit with Vietnamese kids is a joy) and shares their stories, as well as the sights and sounds of the cities he visits.
As we talked, Phil and I touched on how high his tolerance is for spicy food, whether he ever eats any plain food, and whether he ever tries to duplicate some of those delicacies when he gets home from the road. We also talked about open-faced tacos, the food his mother made when he was young, and feedback he's received from viewers who've visited restaurants he's featured on his shows.