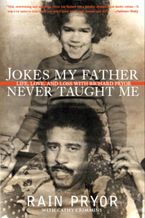 Comedy legend Richard Pryor would be 77 years old today. Here's a conversation I had several years ago with his daughter, Rain Pryor, when she published her book about him, "Jokes My Father Never Taught Me."
We discussed the N-word controversy that's still humming after the Michael Richards incident and the reaction of some black performers like Paul Mooney (who wrote for Richard Pryor for 3 decades) who say they'll stop using that word. She also explained how her father always had women around, whether all his ex-wives get along with each other, and how he beat all of them (and her). Then we discussed how he started out as a Bill Cosby wannabe, and turned into the comedian that others wanted to be — from Eddie Murphy to Chris Rock and others.
Interestingly, Rain told me that she probably could have sold a lot more books by making this a tawdry tell-all, but she didn't want to go there.
Listen, then click here to subscribe to these podcasts via iTunes!