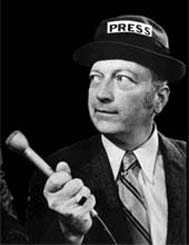 I was sad to hear of the death of comedy legend Bob Elliott at age 92, and planned to jot down my thoughts, but before I could piece them together, my friend Mark Evanier said pretty much what I would have said. The only thing I'll add is the pleasant memory of seeing Bob and Ray in one of their last television broadcasts — a 90-minute special that aired March 31, 1979, on a weekend that "Saturday Night Live" was off.
Interestingly, Lorne Michaels did not exec-produce the special. That task was handed over to Jean Doumanian, who a year later would be given the impossible job of "SNL" showrunner after Lorne and the original crew departed after five years. Her reign, with an entirely new cast and writing staff, only lasted one season, so this may be the most successful thing Doumanian ever had her name attached to in that time slot.
The Bob and Ray special was actually run by "SNL" writer/performers Al Franken and Tom Davis (the former was a huge Bob and Ray fan while growing up) and co-starred SNL's three outstanding female performers, who were all well-known by that time — Jane Curtin, Laraine Newman, and Gilda Radner.
Blogger Ramsey Ess described it thusly:

This special is a weird hybrid of the classic Bob and Ray shtick that the pair had been practicing for the previous 33 years and the new, counter-culture attitude of Saturday Night Live. The program operates under the same framing device as SCTV: tonight NBC is broadcasting a program from a different television network, in this case the Finley Quality Network. Throughout the evening we are shown commercials for strange items and services from the good people at Finley, short snippets of shows also on the Finley Network, as well as musical performances from a young, beardless Willie Nelson.
Here, in all its dry-humor glory, is "Bob and Ray, Jane, Laraine, and Gilda"…