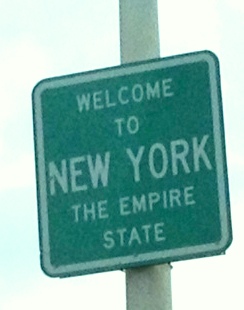 This is a diary of my trip across the US with my daughter to start her freshman year at college in New York — and my return trip, too. Read all the entries here.
I've gotten us up early today (5:30am) so we can finish our last 7-hour stretch before rush hour hits New York. We get dressed, pack everything up, and walk down the hall for the Comfort Inn's complimentary continental breakfast. Like similar motels, it offers what I call make-your-own "lobby waffles," along with some odd-looking egg discs in a chafing dish, cereal, fruit, juice, coffee, and various kinds of bread. My daughter makes herself a waffle while I grab an English muffin and banana. Also having an early breakfast are a half-dozen men who all look alike, from their long hair to their work shirts and oil-stained jeans. I don't know where they're headed, but based on their clothing, I predict we're going to have an easier day than they will.
We load up the car and I get in the driver's seat as we head east on US-22 with the sun in our eyes. There's a lot of ground fog this morning that creates odd vistas as we move through the Allegheny Mountains. At times we're in the midst of the fog, while other times we've climbed high enough to see it below us in a valley. The green hillsides look beautiful, and I think about people who complain about overpopulation and overcrowding — there's no evidence of it here, just open spaces full of trees for miles. The only problem that's apparent in this part of the country is a bad gypsy moth infestation on thousands of branches and limbs.
To go along with the good mood, my audio choice is Woody Allen's stand-up album from the mid-sixties, which we both love. In fact, my daughter knows his Moose routine by heart and recites it along with him, which makes me laugh even harder. After that, I give her a lesson in Bob Dylan's career with some songs from his seminal years and then tell her the true-life story behind "Hurricane."
After a rest area stop, we change seats and, since she's behind the wheel, I treat her to two albums by her favorite group, The Beatles — "Rubber Soul" and the "Help!" soundtrack — all the way through. We sing our way across the Appalachians on I-80.
We encounter road crews a few times, which reduce the two lanes to one, but for the most part, we've been cruising across the country (along with large numbers of over-the-road truckers) without any real backups. In fact, we hit 1,000 miles on the odometer before we have to deal with a major traffic problem, but when we do, it's a doozy. We're in New Jersey and approaching the George Washington Bridge — we can see the skyline of Manhattan from here, so she's getting excited — when everything slows to a standstill. For the next hour, we crawl along at an agonizing pace. The plan is that, when we get to the other side, we're going to take the Cross Bronx Expressway over to the Throgs Neck Bridge, then down to the Long Island Expressway. But I have a very bad feeling about this jam, so I put on WCBS Newsradio 88 in time to catch a traffic report that there's been an accident involving a motorcycle on the Cross Bronx and all three lanes are closed. At the last minute, I tell my daughter to make a quick right turn onto the exit for the Harlem River Drive. She's nervous because this is the first time she's driven in New York City, but I assure her we'll be fine as we head south to the Triboro Bridge (or, as it's now known, the RFK Bridge).
To make her feel a little less anxious, I find Sinatra singing "New York, New York" on YouTube and play it loud, followed by Liza Minelli's original version of the song. Knowing this will be her home for several months — the city, not this stretch of road — she smiles, sings along, and has me take a photo of a sign welcoming us to The Empire State. Once we're over the Triboro (dammit, that was its name my whole life, so that's what I'm still gonna call it!), we take the Grand Central to the LIE to the Astoria Parkway exit, because we have to make a stop at Bagel Oasis, home of the best bagels I've ever tasted. We get a dozen, and some cream cheese, and a package of Yodels as a treat.
Back in the car for the last few miles of our trip, I choose one last bit of silliness from my music collection — a half-dozen Heywood Banks songs, including "18 Wheels on a Big Rig," "Toast," and "Pancreas." Then we continue east several exits to my Mom's house, where we're going to spend a few days (and eat a few pizzas) before moving my daughter into her dorm room. Grandmother and granddaughter are thrilled to see each other, and I'm happy to have had these three mostly-stress-free days together before the big college adventure begins.
I'm also looking forward to resting up for a few days before I have to start the long drive home alone — but I have some interesting plans for that, which I'll share with you soon.
Mileage thus far: 1,058.