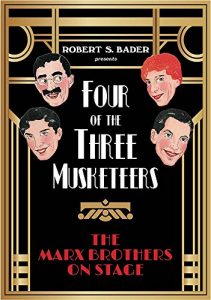 I was in high school in the early 1970s when there was a renewed interest in the Marx Brothers. Their movies were showing in revival houses, their long-lost classic "Animal Crackers" was in theaters for the first time in decades, Groucho did a couple of concert appearances, and there were a bunch of books about them, all published within a few years of each other. I read many of them and became the best kind of Marxist, which is why I'm happy to welcome today's guest.
Robert S. Bader has compiled DVD releases of The Marx Brothers on TV, Groucho's "You Bet Your Life" series, and others, as well as writing the book "Groucho Marx and Other Short Stories and Tall Tales." His new one is "Four Of The Three Musketeers: The Marx Brothers On Stage," and here's our conversation about it.
Among the topics we touched on:
In their pre-movies years, how they survived vaudeville;
How things changed when Zeppo left the act to Groucho, Chico, and Harpo;
Who came up with Harpo's bits, and when did he go silent on stage?
When did Chico introduce his famous finger-shooting piano style?
How Groucho gets credit for ad-libbing a lot of dialogue that was actually written by others;
How they switched roles on stage — and off;
Why parents would try to keep their daughters away from the Marx Brothers on the road;
The story behind 1972's "An Evening With Groucho" at Carnegie Hall.