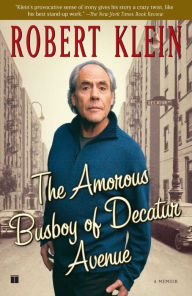 Robert Klein was back on my show this afternoon, one day ahead of the debut of his new HBO special, "The Amorous Busboy of Decatur Avenue" (which is also the name of his book, which came out this summer).
This is the 8th time he's done a standup special for HBO — in 1975, Klein did the very first one the network ever showed, at a time when HBO wasn't even available nationally yet. We talked about that and his other TV appearances, including with Carson and Cavett, and doing the first "Chee-burger, chee-burger" sketch with Belushi and Aykroyd on "Saturday Night Live."
Klein is currently working on "Ira and Abby," a new movie written by and starring Jessica Westfeldt (from "Kissing Jessica Stein"). One of the co-stars is Fred Willard, who Klein worked with in Second City forty years ago. Once we got into that, we branched off into "Hooper," the 1978 Burt Reynolds movie in which Klein played a megalomaniacal director — and he revealed who that character was based on.
Listen, then click here to subscribe to these podcasts via iTunes!
Previously on Harris Online…