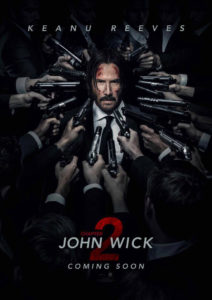 This week on the showbiz segment of my show, Colin Jeffrey and I reviewed Keanu Reeves in "John Wick: Chapter 2." We also discussed why "The Lego Batman Movie" and "Fifty Shades Darker" will rule the box office, "SNL" bringing Weekend Update back to primetime, and what Johnny Depp spends $2,000,000/month on.
Listen, then click here to subscribe to these podcasts via iTunes!
Note: this is Colin's last Showbiz Show with me, as he is moving on to a behind-the-scenes job at KSDK-TV. I have had a great time working with him for nearly three years, and I'm sure this move will be a great boon to his career. Meanwhile, I'm looking forward to having Max Foizey join me in the studio beginning next week.