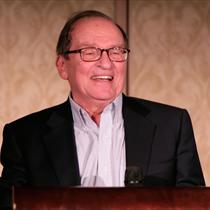 Sidney Lumet made a lot of great movies, but was a very boring speaker. My wife and I saw him interviewed at the Smithsonian about 15 years ago. I'd been looking forward to it because I counted many of his films among my all-time favorites, but we almost walked out. I couldn't believe that a man who could tell stories so well on the big screen had so few anecdotes to share and couldn't talk about his techniques and accomplishments without inducing yawns.
Imagine a whole evening like this:

Still, that doesn't reduce the brilliance of Lumet's movies, including "Network
," "Serpico
," "Dog Day Afternoon
," "The Verdict
," and so many others. Lumet directed 4 actors and actresses who won Oscars for their performances, and 13 others who were nominated. You can't do that without being able to explain your vision to your cast. He was also the quintessential New York filmmaker — even more so than Woody Allen, Spike Lee, and Martin Scorcese — in the way he used the streets and the neighborhoods of the city as a character integral to each story.
Two things Lumet did with his cameras are stuck in my memory, both of them about drama in confined quarters. I recall seeing "Fail-Safe
" for the first time and marveling at how his camera stayed on Henry Fonda, just sitting there listening, as Larry Hagman interpreted for the unseen Russian premier at the other end of the phone. It was just the two of them in a tiny room in a bunker beneath the White House, trying to avert nuclear war. Lumet used extreme close-ups, which drew us even further into the personal drama these two men were experiencing.
The other was the way he used various lenses to both open up and close in the jury room in "12 Angry Men." In some shots, you can feel the claustrophobia as the tension builds, again with Fonda trying to convince his peers that the young man on trial was not a murderer. Lumet seems to bring the walls in right behind the actors as the arguments grow more heated and Lee J. Cobb's temperature keeps rising. We went to see a production of "12 Angry Men" at the St. Louis Rep a couple of years ago and, while everyone onstage was fine, the open space diffused the situation, rendering the story much less effective than Lumet's screen version.
Lastly, a recommendation: if you didn't see Lumet's last triumph (at age 83), "Before The Devil Knows You're Dead
," put it in your Netflix queue right now. It's a dark story of desperation, with a stellar cast led by Phillip Seymour Hoffman, Marisa Tomei, Ethan Hawke, and Albert Finney — but do yourself a favor and don't read any more about it, because the plot is best experienced without even a tiny spoiler.