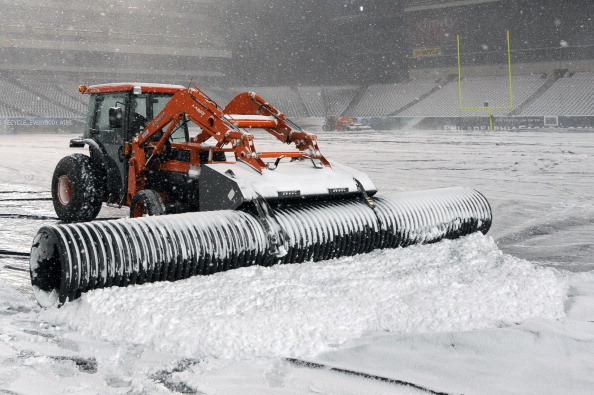 The postponement of last night's NFL game in Philadelphia made me wince.
This wasn't in DC or Tennessee or North Carolina or another state that doesn't handle snow well. This was in Pennsylvania, a state where both the residents and road crews have been dealing with large snowfalls forever. Governor Ed Rendell said it best:
"This is football; football's played in bad weather. I think the fans would have gotten there, the subways work and the major arteries are still open, and other fans would have stayed home — but you play football regardless of the weather."
Eagles fans have a reputation for being among the toughest in the league. They would have gotten to the stadium and home with few problems, with the possible exception of snowballs reigning down on the Vikings at some point in the second half when enough beers kicked in. For those who stayed home, the game would have been telecast on NBC, and it would have made good TV. Al Michaels and Cris Collinsworth would have had a blast calling the action in the snow, and it probably would've been fun for the players, too.
If the NFL is going to start worrying about frosty fields, they're going to have to rethink having their season roll into December with playoffs in January, or hope that no team in the East or North divisions in either conference has any home games between Christmas and the Super Bowl. After all, this is a league that hasn't canceled a game because of weather in more than six decades. Even the infamous Fog Bowl — with the Bears hosting the Eagles (yes, them again) at Soldier Field in a game that no one could see because of the think blanket of fog that enveloped the field — was allowed to continue despite the problems for the officials, coaches, and the media up in the press box who couldn't tell what was going on (the players loved it, though).
Sunday's postponement announcement, made about 8 hours before kickoff, when there wasn't a single flake on the ground yet, reminded me of a snowy incident in the late 1980s.
I was the morning man on WCXR/Washington, on the air from 5:30 to 10:00am. On snow days, newsman John Ogle would get calls from the various school districts in the area, and we'd announce closings, cancellations, and delays. We rarely had anything to announce about District of Columbia schools, the largest district in the area, because in an urban environment, there were few school buses to worry about as most kids walked to their neighborhood schools, and they were almost always open. The only white powder that caused a problem in downtown DC in those days was Mayor Marion Barry's cocaine.
The suburban districts were another story, and Fairfax County (Virginia), the largest of those, had developed a reputation for an itchy trigger finger. It seemed as if the superintendent of schools was more anxious for a day off than anyone else.
One particular day stands out. It had been a dry winter, with zero inches of snowfall thus far. But on this morning the forecast was for a cloudy day with a 50% chance of snow that afternoon — and Fairfax called us to ask that we announce that schools would be closed that day.
When John passed this information to me during a commercial break, I thought he was joking or it might be a hoax, since we hadn't received a call from any other district. He said that the caller from Fairfax had given him the right code (a fail safe we'd built into our system in the pre-internet days), so it was probably legit, but he'd double-check. John called the superintendent at home and he confirmed the information.
We were both stunned. When the commercials ended, I went back on the air with John and the rest of my crew and reported what we'd just learned, adding that in our more than 30 years of combined radio experience, none of us could remember another occasion in which any district had closed schools due to a 50% chance of snow later that day. It was so ludicrous that we couldn't help but mock the superintendent's decision.
The phones exploded. Listener after listener was outraged — not at us, but at the superintendent. Parents in Fairfax County blasted the guy, complaining that they now had to make other arrangements for their kids for the day while they went off to work. We never heard from officials of any other district, as none of them thought the forecast worthy of canceling school that day.
For the next six months, we never missed an opportunity to joke about Fairfax's decision. If it was raining in the morning, we'd say we were waiting to hear from Fairfax about schools opening late. When Daylight Saving Time started in the spring, we'd wonder if the sky being dark in the morning might affect the Fairfax school day. Listeners got into the act, too — before responding to whatever topic we were discussing, they'd drop in a question about whether Fairfax schools were open. Recent graduates speculated on how bad the forecast would have to be for them to be asked to start forgetting what they'd learned in Fairfax.
As for the snow, it never came. Not even an eighth of an inch.
Come to think of it, it was a beautiful day for football.