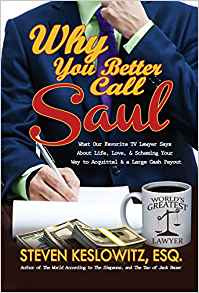 A few weeks ago, TV critic Alan Sepinwall was back on my radio show to discuss his new book, "Breaking Bad 101." After that interview aired and I posted it as a podcast, I got a message from an attorney named Steven Keslowitz. No, he wasn't suing me for anything — he was pitching himself as a guest.
Steven is a practicing attorney, pop culture expert, and author of "The World According To The Simpsons," "The Tao of Jack Bauer," and his new one, "Why You Better Call Saul," about the "Breaking Bad" spinoff that will move into its fourth season next fall on FX. So I invited him to come on the show and talk about it.
Listen, then click here to subscribe to these podcasts via iTunes!