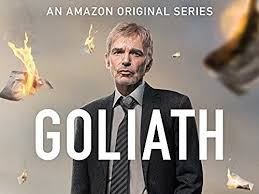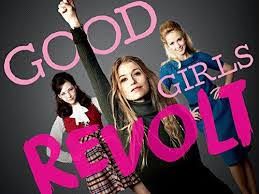 I have two shows to recommend you watch if you have an Amazon Prime account:
"Goliath," starring Billy Bob Thornton as a formerly-great lawyer who drank his way to the bottom, but gets a chance at redemption in a case against the big law firm run by his ex-partner (William Hurt, in full slime mode). With Molly Parker as his arch-nemesis, Maria Bello as his ex-wife, and Harold Perrineau ("Lost") as an impatient judge. Eight episodes in the season. I hope they make more.
"Good Girls Revolt," about women working at a news magazine in 1969 who are allowed to be researchers and secretaries, but not reporters. Based on a book by Lynn Povich (Maury's sister), one of the real-life women who complained to the EEOC about discrimination at Newsweek. With lots of talk of consciousness-raising and the beginnings of the feminist movement, think of it as a follow-up to "Mad Men" if Peggy and Joan were the central characters. I don't know anyone in the uniformly good cast, although Mamie Gummer plays Nora Ephron in the pilot — odd since she's the daughter of Meryl Streep, who played Ephron in "Heartburn." I'm only halfway through the ten-episode season, but I'm hooked.
Meanwhile, Amazon's competitor, Netflix, has finally added the download option to some of its movies and original shows. That means that you can download the content to your iOS or Android phone or tablet (it doesn't work for laptops or desktops) and then watch it without having to have a wi-fi or internet connection later. Amazon has offered this for much of its Prime Video content for awhile, which has allowed me to binge-watch stuff while flying without having to pay for the costly (and slow) onboard wi-fi. Now I'll do the same with Netflix material — like the new season of "Black Mirror," which I've only been able to watch a couple of episodes of.
One other TV note: as a longtime fan of "The Amazing Race," Reality Blurred's Andy Dehnart had me worried earlier this week when he reported that CBS had not set a premiere date for Season 29, which is already in the can. So I was glad to see his update saying that the network has announced it will return on April 21st. However, there are no plans to do a thirtieth season of the show — yet. Damn you, McGyver!