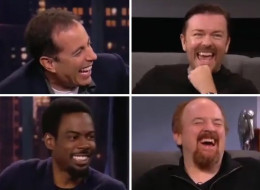 The single funniest question I've heard this year was, "Did he do the whistling?"
Chris Rock asked that question on the HBO special, "Talking Funny," in which he sat down with Ricky Gervais, Jerry Seinfeld, and Louis CK for a rollicking hour about the art and business of doing stand-up comedy. There's no way I can relate the context of Rock's question other than to say it's part of a discussion of a bad comedian doing a bad song parody on a very off-color topic, but when Rock adds it as a throwaway, the other three laugh hysterically for several minutes. My wife and I had the same reaction — we had to stop the DVR to catch our breath before continuing.
The entire show is an amazing conversation between four of the best (and, not coincidentaly, most successful) practitioners of the art of standing in front of a roomful of people and making them laugh.
Several times in the special, one of them praised a bit by one of the others, which led to a dissection of why the bit worked or had to be changed or still works (in some cases, years later). During one of those segments, Jerry Seinfeld re-created one of his favorite Louis CK jokes, and when he was done, Louis pointed out that Jerry had adapted it from the original version to one that more closely fit the Seinfeld stage persona. Both were funny, but for different reasons.
My only complaint about "Talking Funny" is that there wasn't enough of it. I'm sure the four of them sat and talked for at least another hour — and I want to see that, too. Hopefully, Gervais (who produced the show) will share some of that footage with us.
The concept of having funny people talking about being funny isn't new. Paul Provenza has done it on Showtime's "The Green Room," David Steinberg did it on Comedy Central's "Sit Down Comedy," Mark Maron continues to host his "WTF" podcast. This Gervais project is a worthy addition to that list.
He's already announced that, this fall, he'd like to do a similar group discussion with some late-night TV talk-show hosts, including Jon Stewart and Conan O'Brien (he asked David Letterman on his show, but Letterman demurred). Perhaps after that he'll bring together some comics who also starred on successful sitcoms (Ray Romano, Kevin James, Tim Allen, Roseanne Barr — to name a few). There are myriad possibilities for Gervais to explore.