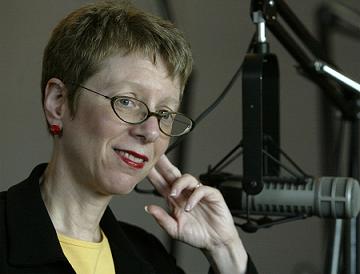 Over the years, I've had quite a few people say some very nice things about the interviews I conduct, which I appreciate very much. Recently, a listener asked me who I think does great interviews, and the first name out of my mouth was Terry Gross, the woman who has been hosting NPR's "Fresh Air" for a quarter-century (plus another ten years as a local show before that at WHYY/Philadelphia, still the show's home station).
What makes Gross so good? Three words: preparation, curiosity, and listening. It's clear that Gross has done research on every guest, delights (as I do) in asking questions that the interviewee may not have been asked before, and pays close attention to what they're saying so she can ask followup questions that make the interview a conversation, not a re-hash of the same old talking points. You get more than the same old stories and talking points in a Terry Gross interview.
I don't know how many people are on her staff, but it's clear that she has resources that few local hosts have, from guest bookers to researchers to editors who find audio for her. All of them contribute to one of the most consistently well-produced shows in the business.
While I don't listen to her show live on the radio, I do download many of the "Fresh Air" podcasts via the iTunes store. I just enjoyed her extended discussion with Jon Stewart, recorded onstage at the 92nd Street Y in Manhattan, that touched on his Rally To Restore Sanity, how he and his staff put together "The Daily Show," his thoughts on some of the public figures he's parodied, and how his comedy career has morphed from his early days as a standup comedian to his role as one of our most important (and still funniest) social commentators.
Here's the link to that conversation between two master communicators.