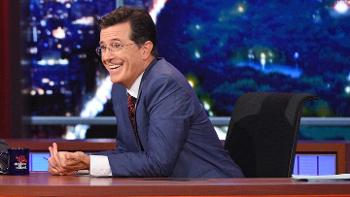 After four weeks on the air, Stephen Colbert has settled into his "Late Show" rhythm and, for the most part, it's working. His desk bits are sharp and, in the same way he did on "The Colbert Report," Colbert still makes important points laced with clever humor, even without his bombastic character. In fact, the desk stuff is so good he should consider dropping the short monologue he opens the show with. It's the weakest part of the show.
If I were on his staff, though, I'd worry about doing two desk segments in the first half-hour plus another one later in the show. That's an enormous amount of writing to burn through. While his team did have several months to write bits and put them on the shelf, that supply is going to get thin soon, and for the sake of the integrity of the comedy, Colbert would be better off doing two a night rather than three.
One potential trouble area is when Colbert tries to do schtick with his guests. For example, the other night when he had Morgan Freeman reading lines from movies he wasn't in, just to hear how they sound in his voice. Not only did the bit not work, it detracted from what should have been a better attempt to get Freeman to share some anecdotes from his long career. Instead, it came off as something Jimmy Fallon would do (i.e. trying to create a viral moment). Colbert can be a very good interviewer, and is bringing on some guests who don't fit the stars-who-have-something-to-plug that are typical of late night guests — from politicians to tech CEOs to Malala Yousafzai. His interview with her was compelling, warm, and even crossed into the realm of cute when she did a card trick for him. He'll set himself apart from Jimmy and Jimmy by doing more of that.
Great performers need great technical people to keep the show tight, so Colbert's smartest CBS hire has to be bringing director Jim Hoskinson with him from Comedy Central. They have the best host/director timing since Hal Gurnee worked with David Letterman. As for bandleader Jon Batiste, he seems fine — although I have yet to recognize a single song his band has played — but Colbert shouldn't rely on him too much as a comedy foil because that ground has already been worn down from decades of Paul Shaffer's just-right support work for Letterman. Besides, Colbert is such a strong solo act, he doesn't need anyone to prop him up.
I would make one band-related change, however — if Colbert is going to keep doing that stand-up at the top of the show, he needs to stop being surprised when the band starts playing his theme. Don't even mention it — just let it happen, tell your last joke, and roll into the opening credits. And, as I've mentioned before, the audience needs to calm down a little. Their over-caffeinated pumped-up reaction to Colbert's mere appearance onstage is annoying and goes on for far too long.
I recognize that this is all nit-picking, which is a good indicator that there aren't really any big problems with the updated "Late Show." Especially following a long-in-decline Letterman, Colbert's desire to be there and to please us marks a new direction in and of itself.