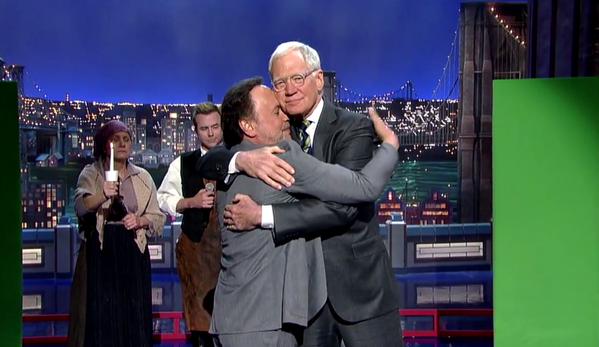 David Letterman will host his final "Late Show" one month from tonight, and the show has already turned into a squirm-fest as a parade of celebs come on to say how much he's meant to them. The praise looks like it makes Letterman uncomfortable, but he seems resigned to the fact that this is part of the process of closing out a long run in late night. Jon Stewart has a similar look on his face as guests begin to do the same with his departure imminent, as well.
We went through this in 1992 when Johnny Carson ended his 30-year reign, but it was different because he was the undisputed king of late night, there were so few other options, and he was still at the top of his game. Letterman, on the other hand, looks like he's been phoning it in for several years. While his legend will always include dozens of memorable moments and wacky bits he created (or borrowed from Steve Allen) and his paradigm-shifting attitude towards late-night television, which spawned the current generation of competitors, the fact is that it's been a long time since Dave said or did anything original. What's the last time you heard anyone buzzing about anything on "The Late Show"?
Unfortunately, the same can be said of Stewart, whose "Daily Show" has lost its cleverness lead and turned into a nightly recitation of the comedic crutches he's leaned on for the last year or so. With Stephen Colbert out of the building, off the air, and waiting to launch whatever his Letterman replacement show will be, the only truly original content being produced in that arena belongs to John Oliver and his crew at "Last Week Tonight." Granted, they have a full week to prep a show, while Stewart, Letterman, et al have to come with stuff four days a week, but there's a joy in Oliver's eyes and delivery that has evaporated from the two soon-to-be-retirees.
One last thought on this subject. Billy Crystal, usually a money-in-the-bank guest, was among the well-wishers on Letterman's show last week, but it would have meant more if: a) he hadn't been the featured act on Jay Leno's final "Tonight Show" last year, treating him with way more deference than he deserved; and b) Billy weren't there primarily to plug his new FX show, "The Comedians" (which I've already given up on after two episodes — who wants to see Crystal being nasty?).