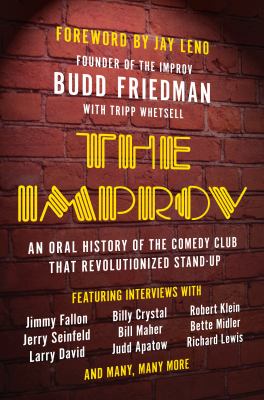 Long before there was a Funny Bone or a Helium Comedy Club or the Comedy Store or the Comic Strip or Yuk Yuk's, there was a place in Hell's Kitchen in New York called The Improv.
It was started by Budd Friedman, who I met a couple of years ago when I was in LA and my friend Mark Evanier took me to a meeting of Yarmy's Army, a group of veteran comedians that at one point included Harvey Korman, Tim Conway, Shelley Berman, Don Knotts, Gary Owens, Ronnie Schell, Howard Morris, and many others. The night I was there, I met Jack Riley (Mr. Carlin on The Bob Newhart Show), Chuck McCann (who does voice work for more cartoons that I can list), Thom Sharp (who did those classic man-on-the-street commercials in St. Louis for Southwest Bank), and Pat Harrington (Schneider on the original One Day At A Time). I wrote about that evening here.
Budd was there, too. I only talked with him for a few minutes, but told him I'd like to have him on my show some day. He said he'd be happy to when he finished the book he was working on about the history of the Improv. Well, now that book is out, but unfortunately Budd had a stroke earlier this year and can't do my show, but his co-author Tripp Whetsell is here to talk about it.