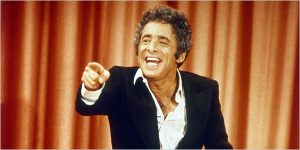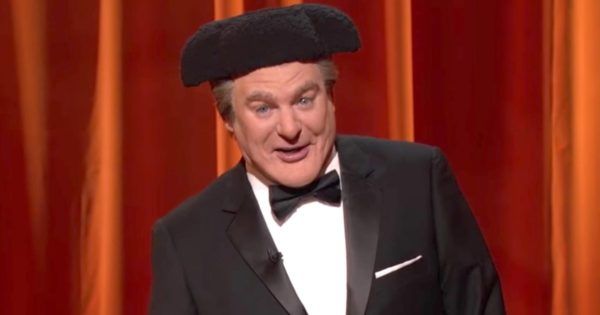 In the last year, several TV game shows of the 1970s and 1980s have been revived by the big networks, primarily because they can be produced for a lot less money than a scripted series. Thus, we're seeing new primetime versions of "Match Game," "To Tell The Truth," "$100,000 Pyramid," "Love Connection," and — coming soon, "Battle Of The Network Stars."
Now ABC has brought back "The Gong Show," originally produced by Chuck Barris, the man behind "The Dating Game," "The Newlywed Game," and "The $1.98 Beauty Pageant." His version was a salute to stupidity, with bad performers, D-list celebrity judges, and Barris himself as the host who was terrible at his job. The one thing it had going for it was a sense of fun, celebrated every time The Unknown Comic (Murray Langston with a paper bag over his head) or Gene Gene The Dancing Machine appeared, just to kill a few minutes of airtime.
The most bizarre thing about the new "Gong Show" is that it's hosted by Mike Myers, although his name is never announced and doesn't appear in the credits. That's because he's in Jiminy-Glick-like makeup, pretending to be a middle-aged British personality named Tommy Maitland. Myers must be more comfortable in character than as himself, but I wonder if anyone under 30 even knows who he is — it's been a long time since his two "Wayne's World" and three "Austin Powers" movies. Sure, he also did four "Shrek" movies, but that was just his voice, and the last one was seven years ago.
Throughout "The Gong Show," Myers/Maitland tries way too hard, tossing off bad one-liners that, despite not being funny at all, send the judges and audience into hysterics. There are cutaway shots to people laughing their asses off, but the editing reminds me (since we're talking about reviving old TV here) of an old Dean Martin roast, where Foster Brooks or George Gobel would do something only mildly amusing, followed immediately by a cut to Arte Johnson or Joey Bishop falling off his chair, obviously in response to something someone else said at another time. On this "Gong Show," everyone seems like they're hyped up on too much sugar, overreacting to everything they see.
The new version's contestant pool is populated by people who must have been rejected by "America's Got Talent," so bad they couldn't even appear on the who-are-you-kidding episodes that mark the start of each season of that show. On last week's "Gong Show" debut, a guy in an ape suit played bagpipes while pedaling a unicycle around the stage, a couple spit banana bits into each others' mouths, and a woman dressed as Bo Peep put a live tarantula in her mouth and played the harmonica (complete with a graphic warning viewers, "Please do not put spiders in your mouth"). Some of the performers were clearly wannabe actors who weren't there to showcase their own talents, but to do bits created by the show's writing staff.
This "Gong Show" also had its own time-killer, a guy who came out and sang Benny Bell's "Shaving Cream," a song from 1946 that returned to the charts in the late 1970s thanks to Dr. Demento. I'm guessing Mike Myers spent a lot of time listening to that radio show under the covers as a young boy. Or maybe it was Will Arnett, who is listed as one of eight executive producers.


Chuck Barris' "Gong Show" was always immune to criticism, because it was exactly what its creator promised it would be: cheap, dumb, and low-rent. The revival isn't cheap, but it does meet the original's low-bar standard on the other two qualities. It won its time slot Thursday night and may remain popular for the rest of its summer run, but, as with the original, the joke will run thin fairly quickly. Without Barris there to keep it bizarre, there's no reason to expect long-term success — a lesson that should have been learned from three previous "Gong Show" revivals, none of which lasted more than a season.