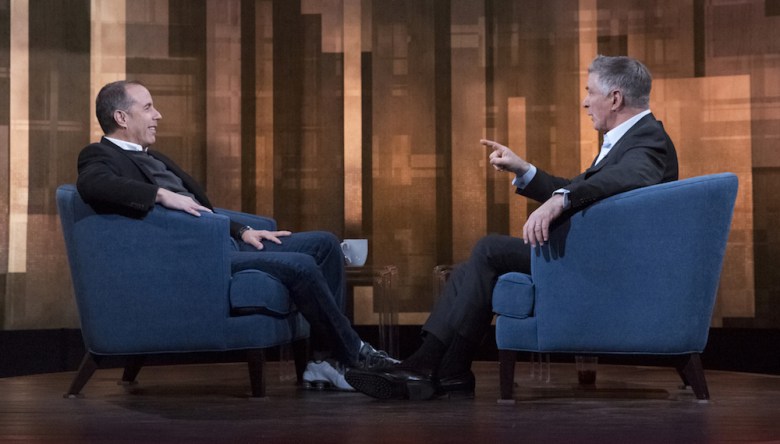 Last week, I wrote about podcasts and TV shows that feature long-form one-on-one interviews, with hosts like David Letterman, Mark Maron, Scott Feinberg, Kevin Pollak, and others. This week, we have a new entry in the genre.
Sunday night, after the Oscars telecast finally ended, and ABC cut away so its local stations could do their late newscasts, the network returned to air hour-long sneak peek of "Sundays with Alec Baldwin," a pilot for a series it plans to run later this year.
I like Baldwin, but I wonder whether ABC really thinks people will tune in for a primetime show in which he sits opposite another celebrity and just talks. Thankfully, "SWAB" has no studio audience, so it has the feel of an old Tom Snyder "Tomorrow" show — complete with a cheap set, minimal graphics, and occasional laughter from the crew — but that's not exactly state of the art 21st century television. It's more like a podcast. In fact, "Sundays with Alec Baldwin" is really nothing more than his "Here's The Thing" podcast with cameras and lights.
Baldwin mentioned that this pilot episode wasn't supposed to air, but it served its purpose (getting ABC to pick it up) thanks to the presence of his friend Jerry Seinfeld as his lead guest. Seinfeld understands the art of conversation (as he's proven on "Comedians In Cars Getting Coffee") and instinctively knows how to steer his answers in an interesting direction. The other guest was another Baldwin pal, SNL star Kate McKinnon, who needs to work on her talk-show-guest anecdote-sharing skills, somewhat of a surprise considering her years in improv and sketch comedy.
But some of the blame for her segment must lay with Baldwin, who too often has a tendency to push himself back into the center of whatever topic he's discussing with his guests. Sure, he's been a movie and TV star for decades, but his role here should be to talk less about himself, focusing instead on extracting the best material from the interviewees. While Baldwin will no doubt rely on other friends for the next few episodes, he must start booking guests he doesn't already have a personal relationship with (or at least those who serve more of a purpose than being props for his opinions and stories).
That's why Snyder and (later) Bob Costas were so damned good at this. As broadcasters first, their passion was not in hogging the spotlight, but in knowing enough about their guests to steer them towards, through, and around subjects that could result in great television. I wish someone at NBC would go back through the "Tomorrow" and "Later" archives and release them online or air them late at night on one of its cable outlets (Bravo? CNBC?), so a new generation could see those long-lost gems. Baldwin (and many others) could learn a few things by studying them and seeing how much time they spent listening.
As I mentioned earlier, I don't see a big enough audience tuning in to watch "Sundays With Alec Baldwin" in primetime. After all, this isn't like his "Match Game" reboot, which found an audience the last two summers with its mix of B-level stars and bawdy humor. "SWAB" is much more of a niche venture, one that Baldwin already tried, on MSNBC in 2013, without much success. If it doesn't work in primetime, I doubt ABC is going to spend the money and effort to produce it for that late-night Sunday slot, which has gotta be among the least-viewed segments of the broadcast week.
That said, I'll probably set the DVR for "Sunday With Alec Baldwin" when it returns, but I predict that I'll be choosy about which episodes I watch, based entirely on who's in the guest chair — just as I am with "Here's The Thing" and the other podcasts I download.