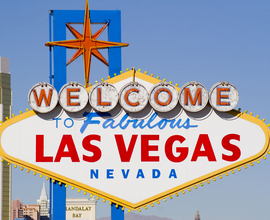 Even though the average temperature in Las Vegas this week is 105, the town is absolutely packed. Few tourists are willing to walk the strip in the midday sun — you can easily spot those that do, as their skin is the color of Carrot Top's hair — so the sidewalks are a swarm of humanity all evening long, and its seems like every third person is carrying either a beer or a yard-long drink of one kind or another.
Strolling along the strip, it's impossible to avoid The Slappers. These are the guys who try to hand you a small credit-card-sized booklet advertising women who will come to your hotel room and do the sort of things that supposedly stay in Vegas. I call them The Slappers because, before handing you the booklet, they always slap it against their other hand, hoping that the noise will get your attention and you'll take one as you pass.
The Slappers seem to all be Latino, likely illegal, and they work in packs. If I hired them to hand out my propaganda, I'd want them to spread out all over The Strip, but these guys tend to huddle together, accosting every passing tourist ten times in a row. Seems like a bad business plan, but then I have no idea how they're paid in the first place. It can't be based on the amount of pamphlets they disperse, because The Slappers could simply throw them in a dumpster and report that they were all gone. Could it be a bonus for every trick turned by the women they're advertising? They must be doing something right, because The Slappers are on that sidewalk every evening, regardless of season.
Their competition is the big rolling billboard truck advertising "Hot Babes To Your Room." Under the phone number, you're promised "Girls who want to meet you!" Translation: women who would never talk to you under any circumstance, unless you have a wad of hundred dollar bills you're willing to part with in exchange for a complete demonstration of her affection for tattoos, tobacco breath, and far-too-brief sex acts. Only then does she want to meet you.
That same deceptive advertising goes on at all the big hotels that now offer topless pools. Women are allowed in for free, but guys have to pay anywhere from $10 to $25. There are tall hedges to keep gawkers away, but here's the kicker — according to a couple of hotel employees I spoke to, there aren't that many women inside with their tops off, so the guys are getting very little entertainment for their entry fee. Besides, the Flamingo (where we stayed) is not exactly a destination for young, hot, single women. They're over at The Palms, hoping to be discovered for the next season of MTV's "Real World."
I was reminded of the time my wife and I were somewhere in the Caribbean and went for a walk up the beach. Before we knew it, we had walked onto a "European-style" topless beach, where there were plenty of women with nothing on above the waist. The problem was that very few of them were young and perky. It wasn't like we'd stumbled onto a photo shoot for the Sports Illustrated swimsuit edition. It was more like seeing the cast of "The View" taking a group shower.
Since this was my wife's first extended trip to Vegas, I showed her the town, from the coolest resorts to the sleazy wedding chapels to the Fremont Street Experience to the never-ending construction sites to In-N-Out Burger, always a mandatory stop during my visits. At the other end of the spectrum, we also had dinner at Prime, the steakhouse at Bellagio. When you go, ask for a table by the windows, so you have a good view of the dancing waters out front. You should also remember to bring gift certificates that someone else gave you, because this is one expensive restaurant (thanks again to my brother, who treated us for my 50th birthday).
The Flamingo may not be as huge as some of the newer resorts on the strip, but it's still plenty big. Even after several days, I was still unsure which way to turn to get where I wanted to go. But wherever I went, there was someone offering me free tickets to shows I had no interest in seeing, if only I'd listen to a spiel about time-shares. Hey, if I wanted that, I'd be at Tahiti Village looking for Tanya Roberts.
Speaking of shows, Penn & Teller have added several new bits to their show at the Rio. Teller has a solo spot involving a red ball that moves at his command (untouched), and they've added a typically P&T twist to sawing-a-woman-in-half. They've also brought back some classics, including Penn eating fire and Teller's "Shadows." I've seen him do this over a dozen times, but still notice nuances he's added, tiny gestures that make the routine even more perfect. When you're in Vegas, put this on your must-see list.
The Rio is also home to the World Series of Poker, now past the half-way point in its six week run of some 55 different tournaments. The Amazon Room boasts more poker tables than you can imagine, and there are live games, satellites, and sit-and-go tourneys being played around the clock, too. Several players I've spoken to say it's better organized this year, but I'm not entering any of the events, because the Deep Stack Tournament at the Venetian and the Mega Stack Series at Caesar's Palace offer much better values than the WSOP events, even without the potential for a bracelet and being made fun of by Norman Chad. There are also cash games of every size at practically every major poker room in town, so there's no lack of good action.
One other recommendation for you. If you rent a car, make the drive about 20 miles west to Red Rock Canyon, with its 13-mile scenic drive amid breathtaking Mojave Desert beauty. There are trails to hike and rocks to climb, although that activity is probably kept to a minimum by the brochure warning about the large number of rattlesnakes in the park.
Apparently, they "really want to meet you," too.