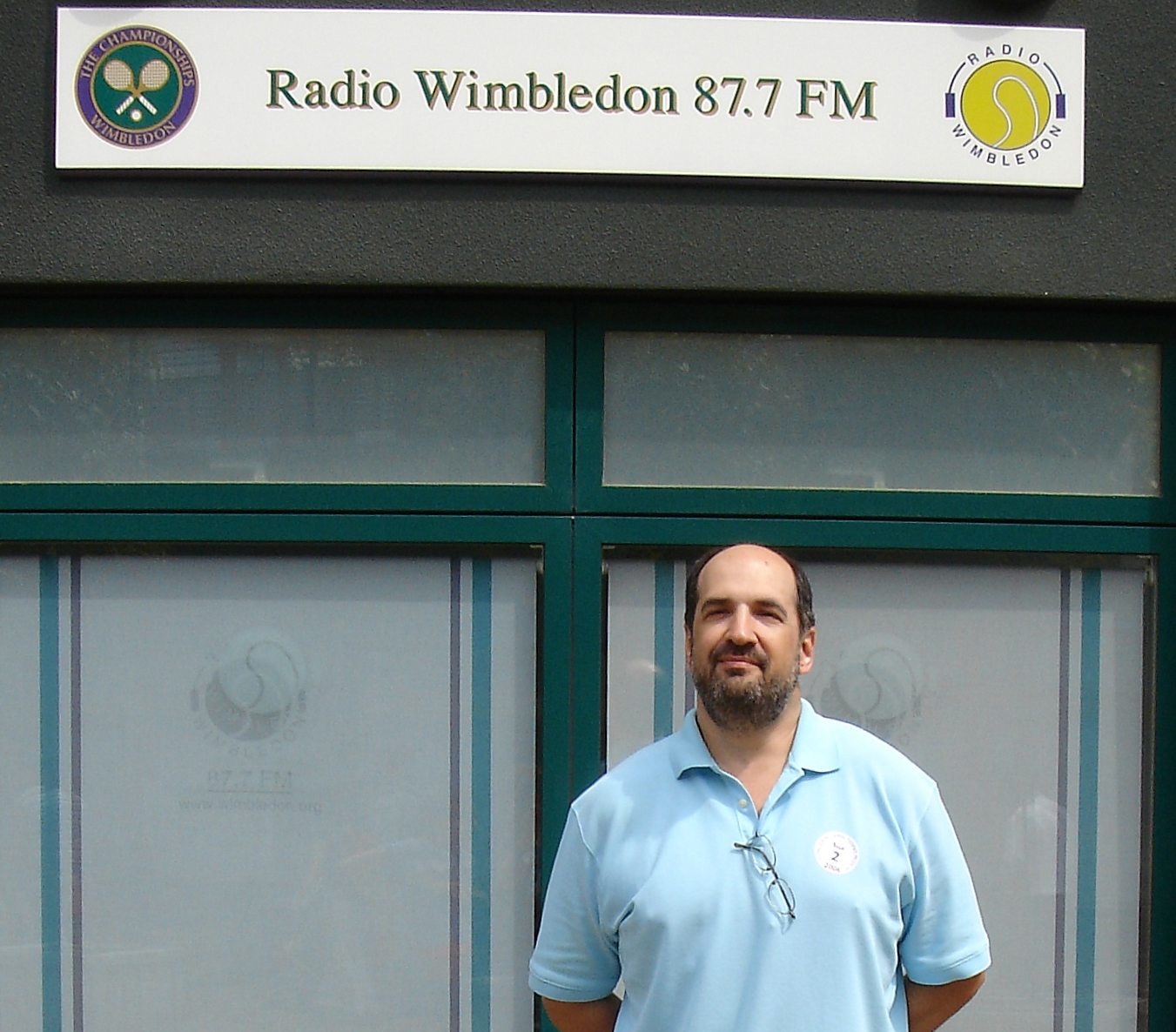 Tennis gets a lot of attention in my house because my wife loves the game. She records and watches all the coverage of every day of the four majors (Wimbledon, French Open, Australian Open, US Open).
Four years ago, we took our daughter to London and made a special side trip to see the All England Club in the suburb of Wimbledon. We were there about two weeks before the tournament was scheduled to begin, so the place was empty except for groundskeepers preparing the venue, but they offered a tour. We accepted and for my wife, it was like visiting a shrine.
We saw Centre Court in its last year before they began constructing the roof. We saw courts one and two and the outer 15 courts where so many untelevised matches take place. While we didn't indulge in strawberries and cream, we did walk up Henman Hill and through the Wimbledon museum, which turned out to be more high-tech and fascinating than I expected — particularly due to a hologram of John McEnroe explaining Wimbledon history in a tricked-up locker room that included his 3-D image retrieving an actual tennis ball from a shelf.
There was also the sign you see me standing near in the photo above, at a facility they use for radio broadcasts of the Wimbledon festivities during the fortnight of the event. In addition to covering post-match press conferences and their own interviews, the station also carries some play-by-play of matches in progress — because tennis is so much fun to just listen to.
Even in the heat of an English summer, it was all fairly cool, and all worth your while if you're a tennis fan and find yourself in London (the tours go year-round).
This morning was the beginning of Wimbledon 2010 and, as tradition demands, last year's reigning champion played the first match. That would be Roger Federer, as it has so often for the last half-dozen years. His opponent was the unranked Alejandro Falla, who must have been both excited and a little bit scared to go against the best tennis player in the world.
Surprisingly, Falla got off to a quick start, beating Federer in the first set. Then he beat him again in the second. That's when I started thinking about "Blazing Saddles."
There's a scene in that Mel Brooks classic where Cleavon Little's Sheriff Bart is informed that Mungo's in town and causing trouble. As he prepares to go handle things, Bart reaches for his gun, but Gene Wilder's Waco Kid stops him, saying, "Don't do that. You'll only make him angry."
That's what I think of every time I see an opponent get ahead early in a match against Roger Federer. Falla may have been up two sets to none, but that only made the Swiss champion angry, or at least more determined. Federer came back to win the third set and then the fourth in a tie-breaker.
At this point, you could see the dream draining out of Falla's body. He was playing the best tennis of his life, beating the best player in the world, but he couldn't close the deal. As they went to the fifth set, Federer was still in top form while Falla started looking worn. Sure enough, the champ swept through six straight games to send the challenger packing with nothing but a what-if story to tell.
In the movie, it takes an explosive candy-gram to subdue Mungo. On the tennis court, a Rafa-gram may be the only thing that slows Federer.
If he's smart, Falla will take a walk through the Wimbledon museum before going home.