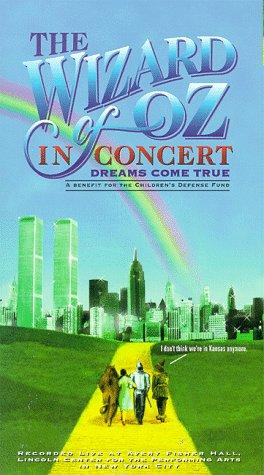 Here's something rare you can share with your family today. It's a staged concert version of "The Wizard Of Oz" that was done at Lincoln Center on May 5, 1995, as a benefit for the Children's Defense Fund. It aired exactly once on TNT and TBS, on November 22, 1995.
The star-studded lineup included Jewel as Dorothy, Jackson Browne as the Scarecrow, Roger Daltrey as the Tin Man, Nathan Lane as the Cowardly Lion, Joel Grey as the Wizard, Natalie Cole as Glinda, Debra Winger as the Wicked Witch Of The West, Lucie Arnaz as Aunt Em, the Boys Club of Harlem as the Munchkins, and James Waller as Toto. I don't know which orchestra played that night, but the guest musicians included Ry Cooder, Dr. John, and David Sanborn, with additional appearances by Phoebe Snow and Ronnie Spector.
While you've no doubt memorized every moment of the original 1939 movie, you may not know some of the music that was cut from it but restored for this concert version, including the song "The Jitterbug" and an extra verse of "Somewhere Over The Rainbow" (which Jewel sings so beautifully, I wonder why she never did any other musicals on stage or screen).
The TV special, directed masterfully by Louis J. Horvitz, was later released on VHS tape, which we bought and played over and over for our daughter when she was young. Unfortunately, it never made it to DVD, and both the VHS and the soundtrack CD are long out of print. Thankfully, someone preserved them on YouTube, so you can watch the whole thing here (it comes in 7 parts, which should play in order if I've embedded them correctly below)…