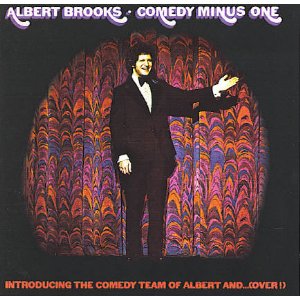 I'm a longtime fan of Albert Brooks, the comedian/filmmaker behind "Lost In America
," "Defending Your Life
," and more (he was also the voice of Nemo's father Marlin in "Finding Nemo
," a driven network reporter in "Broadcast News
," a campaign worker in "Taxi Driver
," and Goldie Hawn's doomed first husband in "Private Benjamin
").
In the early 1980s, his movie "Modern Romance
" was on HBO after midnight about four nights a week for three months straight. I was doing nighttime radio then, and my routine consisted of finishing my show, going to a bar with some friends to drink and fail at picking up women, then end up back in my townhouse, where my roommate and I would inevitably turn on the TV to find "Modern Romance
" playing. It didn't matter where we came in, we always watched it to the end, often saying the lines with the characters and picking up small bits of business Brooks had inserted that we'd missed on one of the previous dozens of viewings.
Brooks joined Twitter a couple of days ago at the behest of his publisher to promote his book, "2030: The Real Story Of What Happens To America." Coincidentally, last week, I introduced my daughter and niece to a bit he did in his standup days about rewriting the national anthem. It appeared on his 1972 "Comedy Minus One" album (one of only two he released and both now out of print), and he also performed it on some TV variety shows.
One of those was "The Flip Wilson Show
" on NBC, where Brooks did two segments. In the first, he appeared as the world's worst ventriloquist with his dummy, Danny. For his second spot, Brooks did the anthem routine.
For anyone who remembers the original bit, you'll notice that he's left out Hal Carter, the 75-year-old whose version of the anthem sounded just like "The Star Spangled Banner" with lyrics changed to "While we stand here waiting for the ballgame to start, let's give thanks for our homes and our two-car garages. Let's give thanks for TV…." In Hal's place, there's another unnamed guy who mumbles for a few seconds before the next auditioner appears.
While the bit always slays me, my favorite part of this video is a subtle technical move. One of Brooks' auditioners is being backed up by a bunch of kids, who are imaginary because he's doing this comedy routine as a solo. But when he casually asks, "can you see the kids?" the cameraman pans just a little bit as if to show us the invisible backup singers. Then he catches himself and reframes on Brooks. A minor gaffe, but it made me smile.
So, from a time when primetime TV included variety shows with professional performers who were paid for their services, and those few years before he abandoned his standup career to do short films for "Saturday Night Live
" and longer feature films for Hollywood, here's Albert Brooks at the piano…
Previously on Harris Online…