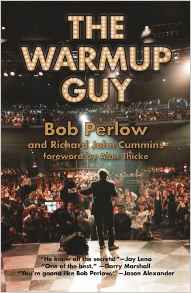 What do "Laverne and Shirley," "Mork and Mindy," "Taxi," "Cheers," "Newhart," "Night Court," "Home Improvement," and "Friends" have in common? Yes, they were all sitcoms, but they also all had Bob Perlow as their audience warmup guy. He's written about his career in the TV comedy bleachers in a new book, "The Warmup Guy," and when he joined me to talk about it, I asked him:
Why do sitcoms need a warmup guy?
Did you do these shows for just a few weeks at a time or several seasons?
Have sitcoms always had someone doing that job?
What made you so good at it, and what did you do that was different?
Did you ever ask the producers to let you work in front of the cameras in a guest role?
Did the actors ever argue or make fools of themselves in front of the audience?
Who were the most pleasant and unpleasant TV stars you worked with?
Listen, then click here to subscribe to these podcasts via iTunes!