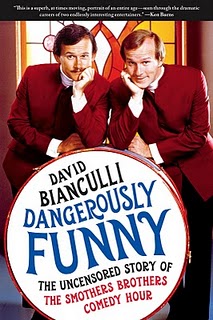 This year marks the 40th anniversary of the Smothers Brothers being fired by CBS. Despite their show being a major ratings success — with an audience equaled today only by the likes of "American Idol" — their material was deemed too dangerous by the network, which was getting pressure from people in high places, including the White House.
TV critic David Bianculli has compiled the definitive history of the show in "Dangerously Funny." He joined me to talk about how the Smothers Brothers (Tom in particular) didn't shy away from fighting for what they believed in and getting in the network's face on the air. They poked fun at their censors, re-introduced America to Pete Seeger after a 17-year blacklist, developed a relationship with and got support from The Beatles at the height of their fame, and eventually earned the respect of President Lyndon Johnson.
Listen, then click here to subscribe to these podcasts via iTunes!
Previously on Harris Online…