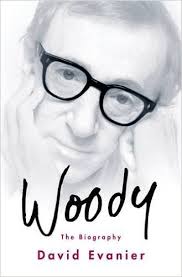 Here's my conversation with David Evanier, author of the new Woody Allen biography, "Woody." Our conversation ranged from Allen's early days in standup and television through his nearly-half-century movie-making career. Among our topics:
How he got an initially reticent Allen to sit down for an interview;
Allen's screen image vs. real life.
The older man/younger woman theme that has recurred so many times in his movies;
Allen's reputation for writing good female characters;
How Andrew Dice Clay ended up in one of his movies;
Whether Allen cares about his movies' commercial success or holds any of them in high regard;
His work as an actor in other people's movies, including "The Front," "Antz," and "Scenes From A Mall";
Why Allen was not allowed to direct the movie version of his play, "Play It Again Sam";
How "Annie Hall" originally didn't include a lot of Annie Hall;
How far Allen's creative control goes;
And, of course, the sexual molestation charges filed against him in 1992 by Dylan Farrow.
By the way, David is a cousin of my friend Mark Evanier, who he quotes several times in the book.
Listen, then click here to subscribe to these podcasts via iTunes!