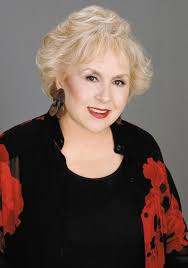 Doris Roberts, best known for her years as Marie Barone on "Everybody Loves Raymond," died yesterday at age 90. She had a career that lasted over 60 years, and in April, 2003, she published her autobiography, "Are You Hungry, Dear?" That's when I got a chance to talk with her about:
How she wasn't even close to the first choice for the role of Ray Romano's mother;
What her input was in creating the character;
The quality of the food on the set of "Raymond";
Whether it's too easy to make a studio audience laugh on a successful sitcom;
How much direction she needs on a set;
Having to audition for TV guests spots even after many years in the business;
Why Pierce Brosnan wasn't allowed to leave "Remington Steele" to play James Bond;
Some of the other TV series and movies in which she played moms.
Listen, then click here to subscribe to these podcasts via iTunes!
Previously on Harris Online…