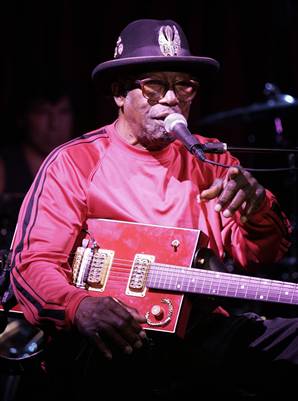 On hearing of the death of Bo Diddley, I'm reminded of an unfortunate story.
I was on vacation in Philadelphia with my wife and daughter around July 4th, 2003, just as the new Constitution Center was about to open its doors. There were several events going on to celebrate our nation's birthday, and one of them was a big outdoor concert with Bo as the headliner.
He performed several of his signature songs, but in the middle of the fourth or fifth song, he stopped the band and pointed at a man in the audience with a small video camera pointed at the stage. Bo shouted, "Turn off that camera!!" The guy in the crowd turned around, thinking Bo must be talking to some commercial video crew behind him, not to a tourist with the family's vidcam shooting some casual footage of a rock legend. Diddley's voice and tone grew louder and more urgent as he repeatedly yelled at the guy to turn the camera off — even after the guy clearly wasn't shooting anymore — until Bo finally called for security to "Get that guy out of here, or this show is over!!"
At this point, Bo was in his mid-seventies and, let's face it, hadn't had a hit in a very long time (Joel Whitburn's book lists "Hey Man" in 1959 as the last time Diddley made the Top 40 on the Billboard charts). Sure, he was a rock pioneer along with Chuck Berry and Little Richard, a Hall Of Famer whose sound influenced many others — listen to The Who's "Magic Bus" or Springsteen's "She's The One" and you'll hear echoes of Diddley's classic riffs — but it's not like he was at the pinnacle of his career and could afford to make a lot of ugly demands.
Whatever good will there was in the crowd evaporated instantly under Diddley's withering excoriation of this man, who had come only to enjoy some music at a free outdoor festival. What harm could he have done with his video camera? At best, he might have posted on YouTube some video of Diddley singing and playing, which could only accrue to the benefit of the performer's image.
Maybe he was having a bad day. Maybe it was a case of Grumpy Old Man-itis. Whatever it was, the guy with the camera didn't deserve to be a victim of a Bo Diddley Beat.