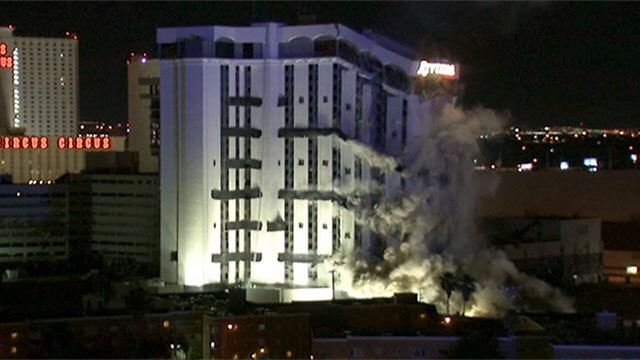 The Riviera, one of the oldest casinos in Las Vegas, is no more. They blew it up (down?) last night with the kind of implosion ceremony that has become common there as the brands from the past disappear from the Strip's skyline. Watching the YouTube video from one of many onlookers gathered at 2:30am to watch The Riviera come down, I noticed two things.
One is the car alarm that starts blaring immediately after the explosives detonated, shaken to life by the shock wave. The other is that the implosion is turned into a show, complete with fireworks. That seems odd to me because no one on the street had to pay admission, and it's not like Vegas to give much away for free any more.
This is a town that is getting tight with the dollar. There are no more signs blaring "99-Cent Shrimp Cocktails" or "$2.99 Prime Rib Dinner!" A couple of weeks ago, the MGM properties (Bellagio, Monte Carlo, Grand, etc.) started charging for garage and valet parking. A friend was staying at a non-MGM property this week but drove his rental car over to Aria, left it with a valet while he played poker for a few hours, and was shocked when he retrieved it that they charged him $18!
That's going to kill business for the rental car companies and the valet parking guys, who have been making a good living for a long time at many of the big Strip properties. I know many people who used to tip two or three dollars, but with the $18 charge, they're pissed off and more likely to tip just a buck, so in the end, the corporation makes more, but the little guy running around in the garage takes home less.
By the way, the charge for self-parking in an MGM garage isn't much lower. I used to rent a car often when I visited Vegas because it turned out to be cheaper than taking taxis everywhere. But with Lyft (and Uber) making it less expensive to move from place to place, and most of my poker action at Bellagio or Aria — and no desire to pay those parking fees — I see no reason to have a rental car in Vegas any more.
As for the Riviera, even by the time I stayed there on my first Vegas trip in 1988 (which I wrote about here, complete with a horrible 99-cent buffet), its glory days were way behind it. Along with the similarly-imploded Stardust, Frontier, Desert Inn, and others, they had to come down to make room for something newer and flashier. The irony is that many of the lots where those old-timers stood are still empty, as financing dried up during the recession, leaving nothing to make money for anyone.
Maybe someone should turn them into cheap open-air parking lots.