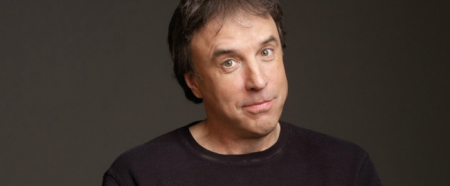 Here's my conversation with comedian-actor Kevin Nealon, who spent almost a decade on "Saturday Night Live," co-starred on Showtime's "Weeds" for 8 seasons, and appeared in more than two dozen movie comedies, including "The Wedding Singer," "Anger Management," "Daddy Day Care," "Happy Gilmore," "Walk Of Shame," and "Roxanne." He's also done two hourlong standup specials and written "Yes, You're Pregnant, But What About Me?" Now he's coming back to St. Louis — the town he was born in — to do standup at Lumiere Place on May 21st.
Among the topics we discussed:

His memories of close friend Garry Shandling, who died a few weeks ago;
Working with Steve Martin on Nealon's first movie, "Roxanne";
What they were really smoking on "Weeds";
How different Weekend Update is now compared to when he did it on "SNL";
A pilot he just did with Elizabeth Perkins for Amy Poehler;
Crowd-funding "The Pleaser," which will mark his debut as a movie director.
Listen, then click here to subscribe to these podcasts via iTunes!