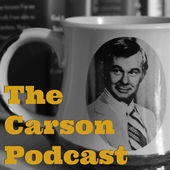 It has been 25 years since Johnny Carson stepped down as host of "The Tonight Show," but his legacy lives on in reruns on Antenna TV and in "The Carson Podcast," hosted by my guest Mark Malkoff. In looking back at the King Of Late Night, we discussed:

Whether Carson's monologue or any modern late night comedy show has real political impact;
Why David Letterman's reruns haven't been re-packaged for distribution as Carson's have;
The authors that disappeared from late night TV when Carson cut his show down to an hour;
How comedians all remember their first time on Carson's show;
What Carson thought of Dana Carvey's devastating impression of him on "Saturday Night Live";
What Mel Brooks told him about being on Carson's very first "Tonight Show" (which no videotape exists of).
Listen, then click here to subscribe to these podcasts via iTunes!