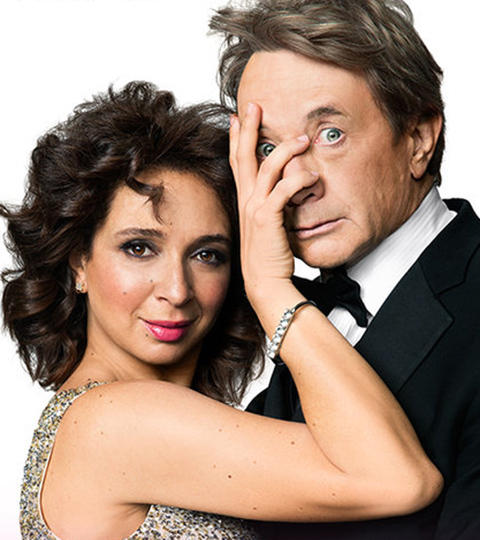 Watching the debut of "Maya and Marty" on NBC was like watching the last half-hour of any SNL — the part with the sketches that barely deserve to be televised in the first place. By including "guest stars" from elsewhere in Lorne Michaels' empire like Jimmy Fallon, Kenan Thompson, and Kate McKinnon, the whole project smells like warmed-over SNL (which even at full boil isn't very good these days).
It's a shame, because Maya Rudolph and Martin Short are both very talented and quick-witted, but they need the right material to shine, and it was missing in abundance last night.
I'm not alone in my disappointment. Here's Ken Tucker at Yahoo TV:
Let me begin by saying I like Maya Rudolph and Martin Short a lot. They're both versatile, charming performers, and as such, could have been ideal headliners for a variety show. Rudolph is a regal comic presence with a rich voice she can use for clever impersonations, or as a straightforward instrument of pleasure. Short is one of the most gifted improvisers and sketch performers television has seen, as anyone knows who ever saw him as a guest on David Letterman's Late Show, or, further back, on SCTV. Unfortunately, Maya and Marty, which premiered on Tuesday night, is not the variety show that displays their gifts to any great advantage.
Here's Robert Bianco at USA Today:

No wonder they were hesitant to tell us what they were doing in advance: They're simply doing what they've already done, and who's going to get very excited about that? Granted, on a network summer night, even a show that feels this old counts as new. Still, it would have been nice to know ahead of time that the show we were going to see would look pretty much precisely like what we've seen, from the look of the sets and the mix of pre-taped parodies and skits done in front of an audience, to appearances by Larry David, Jimmy Fallon, Tom Hanks and musical guest Miley Cyrus.