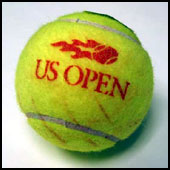 My wife is the one responsible for me being on the tennis court.
She used to play several times a week before a knee injury suspended her USTA career, and several years ago encouraged me to take some lessons and re-learn the game I loved in high school. I have missed playing while sidelined for medical reasons this summer, but I'm looking forward to returning to the doubles court next month to play at the same mediocre level I've become famous for. I'm happy to say that my wife's passion for the sport not only got me hooked, but now our daughter is on the courts every afternoon with her high school team.
That passion extends to watching the major tennis tournaments on TV, so that when there's a Grand Slam tournament going on, my wife controls the remote. For the two weeks each of Wimbledon, the Australian Open, the French Open, and now the US Open, the DVR is set to record approximately 37 hours of coverage each day. Somehow, once she gets home from work in the evening, she still finds time to watch a lot of it, even though I have a feeling she's sneaking a peak at the online coverage during the day in her cubicle.
Last night, we watched a first round match between Venus Williams and an unranked player named Vera Dushevina. The Russian was crushing Venus, beating her 7-6 in the first set and moving out to a 5-4 lead in the second set. This was interesting to watch, because everyone expected Venus to cruise to an easy victory, even with her recent tendinitis problems, yet here she was one game away from being knocked out of the US Open.
That's when I saw the look in Venus' eyes change. It was if she said to herself, "Okay, stop screwing around and start playing like you're supposed to." All of a sudden, she was coming to the net, making Dushevina run all over the place, grabbing control of the game and winning the next three straight to take the set.
That's when I saw the look in Dushevina's eyes change. It was the same look I'd seen in Andy Roddick earlier this summer at Wimbledon, when he had Roger Federer on the ropes. He was up 6-2 in the second set tiebreaker. One more point and he'd move into a two-sets-to-none lead, giving him a pretty good shot to win the championship and dethrone the king. But somehow, Federer came back with six straight points to win the tiebreaker and then went on to win an epic match (including a 30-game fifth set) and the title.
The look in both Roddick's and Dushevina's eyes at the end of their respective second set losses was one of realization that they had missed their opportunity. You could see them mentally cursing themselves at blowing it. They'd had the better player down and almost out, but couldn't land the final killer shot. Though they continued to fight valiantly and put on quite a show for the fans, in the end, they came up short.
To the contrary, Williams and Federer both did what champions do. They never gave up, they kept fighting, they found a way to win.
If you're Dushevina, perhaps you look at it as a great night even though you lost. She's 23 years old, hadn't gotten much notice before, and here she was almost beating one of the best in the world on primetime TV. She probably earned some respect, and maybe a few more endorsement dollars in years to come, depending on how she responds in her next match.
If you're Roddick, you have to look at this US Open as the time to redeem yourself. Win the early rounds, advance to the finals, and close the deal for once against the king. Oh, and put on a good show, because my wife will be watching.
Unfortunately, she's rooting for Roger.