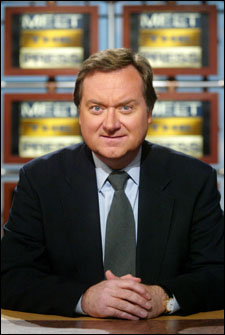 I had the chance to talk with Tim Russert many times over the years, so in his memory, I dug up one of my favorite conversations with him from my archives.
This is from May, 2004, shortly after an incident on "Meet The Press" where a segment he was doing with Colin Powell was interrupted by a State Deparment press staffer. It was also just weeks before the US was supposedly going to "turn over" Iraq to its new government — although no one knew who that would be — and it's interesting to hear Russert's analysis with the hindsight of four years gone by.
We also talked about his appearance on "Jeopardy!" and Tim's book about his father, "Big Russ and Me." Listen, then click here to subscribe to these podcasts via iTunes!