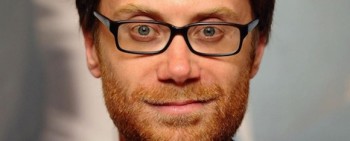 You may know Stephen Merchant's work as co-writer and co-director of the original British version of "The Office" and the HBO series "Extras," as well as "An Idiot Abroad" and "Life's Too Short." He's won an Emmy, 2 Golden Globes, 3 BAFTAs, and 4 British Comedy Awards, and joined me on America Weekend to discuss a new series he created for HBO called "Hello Ladies," about a very tall guy who has trouble meeting women because he's always saying or doing the wrong thing. Among the topics we discussed:
his recent lip-syncing contest with Jimmy Fallon and Joseph Gordon Levitt;
how's it different being single in the US compared to the UK;
how John Cleese and Steve Coogan inspire his comedy;
how being a TV star has changed his luck with women.
Listen, then click here to subscribe to these podcasts via iTunes!